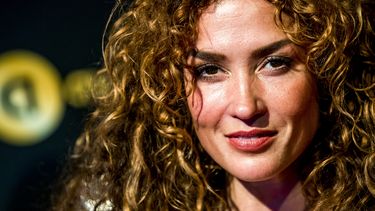 Katja Schuurman en schoenenmagnaat Floris van Bommel krijgen er online flink van langs. Waarom? Een fotoshoot voor het schoenenmerk Van Bommel in het Afrikaanse Zanzibar roept boze reacties op. Mede door uitspraken die Schuurman eerder deed.
Op Twitter circulate in the campaign foto's van het merk Van Bommel, waarop Schuurman en Van Bommel pose in het Afrikaanse land. Maar de setting en locatie van deze fotoshoot valt bij sommigen verkeerd en dat levert een hoop kritiek op.
Dat ook werkelijk niemand dacht: dit komt misschien niet heel erg ontzettend sympathyk over zo. https://t.co/rYHXhmiOoX

—Chris Klomp (@chrisklomp) April 12, 2022
Schoenen-campaign Katja Schuurman in Floris van bommel
De Twitter-rel begon met een tweet van Stylistoloog van de Sterren, die inmiddels duizenden keren is geliket en waar twitteraars veelvoudig op reageerden. Zij deelde de foto's met de tekst: "Katja Schuurman en Floris van Bommel maken reclame voor sandalen naast kindjes zonder schoenen in Zanzibar. What a time to be alive." Op de foto's poseren Schuurman en Van Bommel namelijk naast lokale inwoners. De twee maken reclame voor schoenen, terwijl twee kindjes op de foto's op blot voeten lopen.
Ik hoor ze al denken: we gaan zeggen dat er flink geld is gedoneerd naar hulpfondsen voor Zanzibar.

— Olde Barnevelt (@olde_barneveld) April 12, 2022
@rts_nl wat bezielt uw ambassador #katjaschuurman? Says "schuurt" pijnlijk hard. Niet okay. #embarrassing https://t.co/S2Id8XEiFX

— Jetske💔🇺🇦 🇪🇺 (@Just_Jetske) April 12, 2022
Kritiek op fotoshoot in Zanzibar na klimaatuitspraken
Ook het feit dat Schuurman en Van Bommel voor zoiets "onbelangrijks" naar Zanzibar vlogen, zorgt voor verontwaardigde reacties. Schuurman riep namelijk eerder op haar social media nog op om beter om het klimaat en milieu te denken. Zij moedigde dan ook aan om tijdens de verkiezingen van vorig jaar te stemmen op een partij die zich daar voor inzet. Schuurman zei ook dat het van belang is om onze CO2-uitstoot terug te dringen. En raadde aan om op partijen als GroenLinks, D66, PvdA en PvdD te stemmen. Het feit dat iemand met dit soort uitspraken voor een fotoshoot naar het buitenland vliegt, stuit ook behoorlijk tegen de borst.
Weird… wat een #fail marketing van #vanbommel. In wat een keuze van @KatjaSchuurman_ om hieraan mee te werken…

— Marlies Claasen (@marliesclaasen) April 12, 2022
Och heden says kan toch niet waar zijn! 😳
Ik snap of gehele campaign niet 😒@katjaschuurman in @florisvanbommel maken reclame voor enkel laarsjes en sandalen. Zie man links puts brakke fiets en jerrycan onder de snelbinder en kijk naar de kindjes die geen schoenen hebben. pic.twitter.com/35IwvHe27B

— Anthony (@toniuscrypto) April 12, 2022
De reacties zijn niet mals. "Bizar", "pijnlijk" en "dit kan niet waar zijn", klinkt op social media. Ook wordt aangehaald dat Schuurman ambassadrice is van Return to Sender, een organisatie die spullen uit ontwikkelingslanden verkoopt. Overigens deelde de actress eerder zelf al een voorproefje van de fotoshoot op haar social media. Eerder deelde de actress ook haar ervaringen met seksueel overschrijdend gedrag, nadat de aantijgingen rondom The Voice uitkwamen.
Ondanks kritiek van media-collega's blijft Johnny de Mol HLF8 presenteren, maar waar is Fidan Ekiz?
Foutje gezien? Mail ons. Wij zijn I dankbaar.